Dolmadakia
Dolmadakia are delicate little wraps made with vine leaves. They are usually stuffed with rice as a vegetarian option or more commonly are served with rice, ground meat and herbs.
They can be eaten as a side dish, an appetiser or as a main meal.
Ingredients
250g vine leaves

1 bunch spring onions, finely chopped

2 onions, grated

250g short grain white rice

1/2 bunch parsley, finely chopped

1/2 bunch dill, finely chopped

mint to taste, finely chopped

1cup extra virgin olive oil

1 1/4cup boiling water

juice of 1 1/2 lemons

salt, pepper
Method
Wash and blanch the leaves in boiling water 2-3 minutes. Remove and refresh in cold water, let drain.
In a bowl, combine all the filling ingredients (spring onions, onions, parsley, dill, mint, rice, salt, pepper, 1/2 of the oil).
Spread out one leaf onto a plate, rough side up.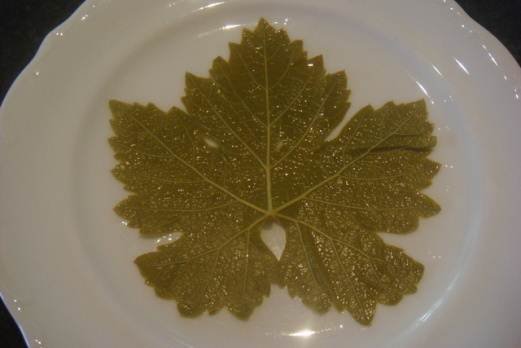 Place some filling on the stalk end of the leaf.
Fold over the stalk end of the leaf to cover the filling.
Tuck in each side of the leaf,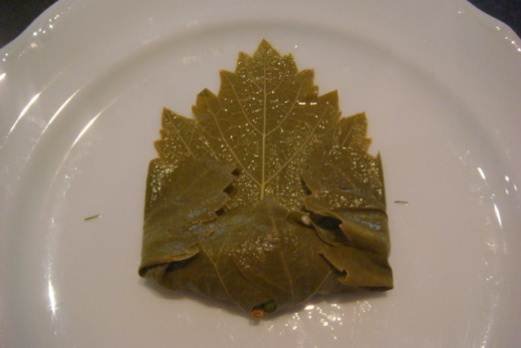 and continue rolling gently until the filling is completely enclosed into a tight roll.
Cover the bottom of a casserole pot with left over leaves. Place the dolmades on the leaves, join side down, packed neatly side by side in rows.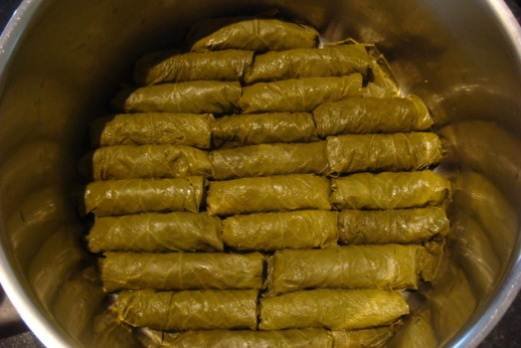 Add the boiling water, the lemon juice, and the rest of the olive oil. Place an inverted plate over the dolmades, for some weight, place the lid on, and simmer gently till the rice is done.