Greek spinach pie recipe - Spanakopita recipe
A delicious Greek filo pastry spinach pie recipe - spanakopita recipe. Famous Greek spanakopita stuffed with spinach, feta cheese, onions, pepper and herbs
spanakopita recipe
Spanakopita recipe
Spanakopita is a classic Greek pie made with sheets of filo pastry and filled with chopped spinach, crumbled feta cheese, chopped onions, lightly beaten egg and seasoning.
It makes a perfect light lunch or dinner; or alternatively you can serve it as an appetiser.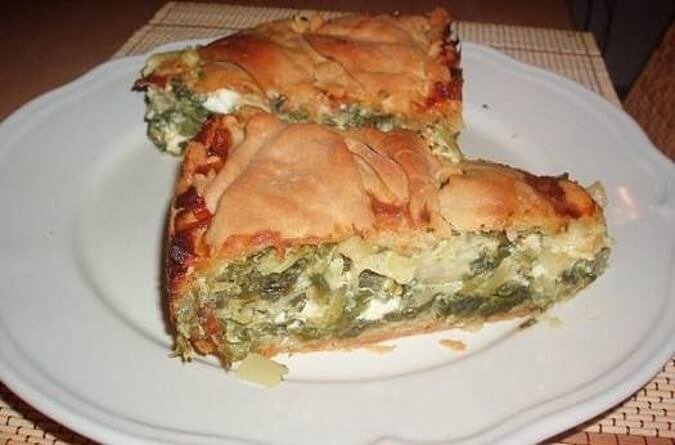 Ingredients
For the filo (pastry):
500 gr flour

3/4 cup of olive oil

a shot of vinegar

salt

warm water
For the filling:
2kg spinach

500g leeks, thinly sliced

spring onions, sliced

1 bunch dill, finely chopped

extra virgin olive oil

pepper

400g feta cheese, crumbled
Method for the filo (pastry):
Place the flour in a bowl, make a well in the centre and add the salt, olive oil and vinegar. Slowly combine the ingredients whilst adding enough warm water to achieve a smooth, soft dough, that is not sticky on your hands.
Method for the filling:
Add some olive oil to a pan and saut? the onions, the leeks, the dill and the spinach. Add the pepper.
Remove the pan from the stove and allow the filling cool.
Grease a medium-sized oven proof dish.
Take approximately 3/4 of the dough and roll out as thinly as possible, making sure it will cover the sides of the dish as well. Place it carefully in the dish, brushing the the pastry lightly with olive oil. Spread half of the filling over the pastry and crumble half of the feta cheese over the top.
Add half of the filling and sprinkle with half of the feta cheese.
Take a small portion of the remaining dough and roll it out to cover the surface of the filling.
Repeat with the rest of the spinach filling and feta cheese.
Roll out the rest of the dough, and cover the pie.
Brush with olive oil and melted butter, score into pieces, and bake in a preheated oven, at 180 degrees, for one hour.
Software: Kryptronic eCommerce, Copyright 1999-2023 Kryptronic, Inc. Exec Time: 0.016575 Seconds Memory Usage: 1.000427 Megabytes