Organic Greek Oregano herb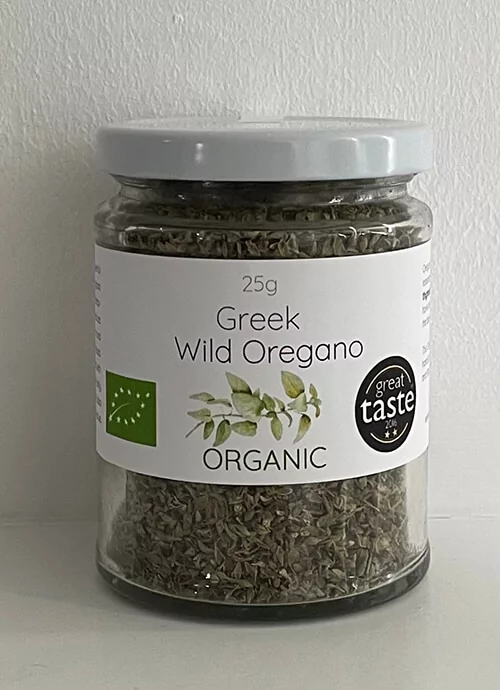 Default Manufacturer
Greek wild oregano herb harvested by hand and slowly dried in the shade.
Food, Beverages & Tobacco > Food Items > Seasonings & Spices > Herbs & Spices
OREGANO
Oregano-600
4.00
The Hellenic Deli
https://www.thehellenicdeli.com/Item/wild-oregano
Organic Greek Oregano herb
Organic Greek Oregano herb
Oregano herb is the crucial ingredient in Mediterranean cuisine.
Can you imagine a Greek salad recipe without oregano herb? It appears in almost all Greek recipes, particularly those which include meat and fish.
Try stuffing a clean and gutted fish with sprigs of fresh oregano and then either grill or bake it in the oven. The flavour is intense, spicy and slightly bitter. Herb Oregano has resistance to cooking and maintains its nutritional value and taste.
It is harvested by hand between June and September and dried outdoors in the shade and is considered the emblem of Greek Cuisine.
Oregano herb variety: Origanum vulgare

Jar 30g
Our balsamic vinegar is a 100% natural product, made from condensed red grape must and vinegar aged in oak barrels with an essence of Cretan herbs.
Premium quality with 0.3% Acidity. Single Estate
Natural Kalamata olives, prepared traditionally by artisan producer
Software: Kryptronic eCommerce, Copyright 1999-2023 Kryptronic, Inc. Exec Time: 0.029683 Seconds Memory Usage: 1.174774 Megabytes